Verilator¶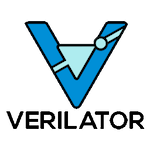 Verilator is a free and open-source software tool which converts Verilog to a cycle-accurate behavioral model in C++ or SystemC. Official reference can be found here.
| Name | Description |
| --- | --- |
| | The CHIPS Alliance develops high-quality, open source hardware designs relevant to silicon devices and FPGAs. |
| Name | Description |
| --- | --- |
| | FreeRTOS is a real-time operating system kernel for embedded devices that has been ported to 40 microcontroller platforms |
| | The WD Firmware package contains firmware applications and Processor Support Package (PSP) for various cores, alongside demos which support all features |
| | The Zephyr Project is a scalable real-time operating system (RTOS) supporting multiple hardware architectures, optimized for resource constrained devices, and built with safety and security in mind |
Note
For more detailed board information please scroll tables below by horizontal.
| Name | Platform | Debug | MCU | Frequency | Flash | RAM |
| --- | --- | --- | --- | --- | --- | --- |
| | | On-board | | 320MHz | 16MB | 1.16MB |