Atmel-ICE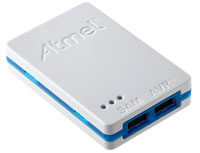 Atmel-ICE is a powerful development tool for debugging and programming ARM® Cortex®-M based SAM and AVR microcontrollers with on-chip debug capability. Official reference can be found here.
You can configure debugging tool using debug_tool option in "platformio.ini" (Project Configuration File):
[env:myenv]




platform

 

=

 

...




board

 

=

 

...




debug_tool

 

=

 

atmel-ice



If you would like to use this tool for firmware uploading, please change upload protocol:
[env:myenv]




platform

 

=

 

...




board

 

=

 

...




debug_tool

 

=

 

atmel-ice




upload_protocol

 

=

 

atmel-ice



More options:
Windows

:

When installing the Atmel-ICE on a computer running Microsoft Windows, the USB driver is loaded when the Atmel-ICE is first plugged in.

Mac

:

Not required.

Linux

:

Please install "udev" rules 99-platformio-udev.rules. If you already installed them before, please check that your rules are up-to-date or repeat steps.
| Name | Description |
| --- | --- |
| | Atmel | SMART offers Flash- based ARM products based on the ARM Cortex-M0+, Cortex-M3 and Cortex-M4 architectures, ranging from 8KB to 2MB of Flash including a rich peripheral and feature mix. |
| Name | Description |
| --- | --- |
| | Arduino Wiring-based Framework allows writing cross-platform software to control devices attached to a wide range of Arduino boards to create all kinds of creative coding, interactive objects, spaces or physical experiences. |
| | Zephyr is a new generation, scalable, optimized, secure RTOS for multiple hardware architectures |
Note
For more detailed board information please scroll tables below by horizontal.
| Name | Platform | Debug | MCU | Frequency | Flash | RAM |
| --- | --- | --- | --- | --- | --- | --- |
| | | External | SAMD21E18A | 48MHz | 256KB | 32KB |
| | | External | SAMD21G18A | 48MHz | 256KB | 32KB |
| | | External | SAMD21G18A | 48MHz | 256KB | 32KB |
| | | External | SAMD21G18A | 48MHz | 256KB | 32KB |
| | | External | SAMD21G18A | 48MHz | 256KB | 32KB |
| | | External | SAME51J19A | 120MHz | 496KB | 192KB |
| | | External | SAMD51J19A | 120MHz | 512KB | 192KB |
| | | External | SAMD21E18A | 48MHz | 256KB | 32KB |
| | | External | SAMD51P20A | 120MHz | 1MB | 256KB |
| | | External | SAMD21G18A | 48MHz | 256KB | 32KB |
| | | External | SAMD51J19A | 120MHz | 496KB | 192KB |
| | | External | SAMD21G18A | 48MHz | 256KB | 32KB |
| | | External | SAMD51G19A | 120MHz | 512KB | 192KB |
| | | External | SAMD51G19A | 120MHz | 496KB | 192KB |
| | | External | SAMD51J19A | 120MHz | 496KB | 192KB |
| | | External | SAMD21G18A | 48MHz | 256KB | 32KB |
| | | External | SAMD51J19A | 120MHz | 512KB | 192KB |
| | | External | SAMD51J19A | 120MHz | 512KB | 192KB |
| | | External | SAMD21E18A | 48MHz | 256KB | 32KB |
| | | External | SAMD21E18A | 48MHz | 256KB | 32KB |
| | | External | SAMD21E18A | 48MHz | 256KB | 32KB |
| | | External | SAMD51J20A | 120MHz | 1MB | 256KB |
| | | External | SAMD51J19A | 120MHz | 512KB | 192KB |
| | | External | SAMD51J20A | 120MHz | 1MB | 256KB |
| | | External | SAMD51J20A | 120MHz | 1MB | 256KB |
| | | External | SAMD21E18A | 48MHz | 256KB | 32KB |
| | | External | SAMD21E18A | 48MHz | 256KB | 32KB |
| | | External | SAMD21E18A | 48MHz | 256KB | 32KB |
| | | External | SAMD51J19A | 120MHz | 512KB | 192KB |
| | | External | SAMD21E18A | 48MHz | 256KB | 32KB |
| | | External | SAMD21E18A | 48MHz | 256KB | 32KB |
| | | External | SAMD51J20A | 120MHz | 1008KB | 192KB |
| | | External | SAMD51J19A | 120MHz | 512KB | 192KB |
| | | External | AT91SAM3X8E | 84MHz | 512KB | 96KB |
| | | External | AT91SAM3X8E | 84MHz | 512KB | 96KB |
| | | External | SAMD21G18A | 48MHz | 256KB | 32KB |
| | | External | SAMD21G18A | 48MHz | 256KB | 32KB |
| | | On-board | SAMD21G18A | 48MHz | 256KB | 32KB |
| | | External | SAMD21G18A | 48MHz | 256KB | 32KB |
| | | External | SAMD21G18A | 48MHz | 256KB | 32KB |
| | | External | SAMD21G18A | 48MHz | 256KB | 32KB |
| | | External | SAMD21G18A | 48MHz | 256KB | 32KB |
| | | External | SAMD21G18A | 48MHz | 256KB | 32KB |
| | | External | SAMD21G18A | 48MHz | 256KB | 32KB |
| | | External | SAMD21G18A | 48MHz | 256KB | 32KB |
| | | External | SAMD21G18A | 48MHz | 256KB | 32KB |
| | | External | SAMD21G18A | 48MHz | 256KB | 32KB |
| | | On-board | SAMD21G18A | 48MHz | 256KB | 32KB |
| | | External | SAMD21G18A | 48MHz | 256KB | 32KB |
| | | On-board | SAMR21G18A | 48MHz | 256KB | 32KB |
| | | On-board | SAMD21G18A | 48MHz | 256KB | 32KB |
| | | On-board | SAMC21J18A | 48MHz | 256KB | 32KB |
| | | On-board | SAMD21J18A | 48MHz | 256KB | 32KB |
| | | External | SAMD21G18A | 48MHz | 256KB | 32KB |
| | | External | SAMD21G18A | 48MHz | 256KB | 32KB |
| | | External | AT91SAM3X8E | 84MHz | 512KB | 96KB |
| | | External | SAMD21G18A | 48MHz | 256KB | 32KB |
| | | External | SAMD21J18A | 48MHz | 256KB | 32KB |
| | | External | SAMD21G18A | 48MHz | 256KB | 32KB |
| | | External | SAMD21G18A | 48MHz | 256KB | 32KB |
| | | External | SAMD21J18A | 48MHz | 256KB | 32KB |
| | | External | SAMD21J18A | 48MHz | 256KB | 32KB |
| | | External | SAMD21G18A | 48MHz | 256KB | 32KB |
| | | External | SAMD21J18A | 48MHz | 256KB | 32KB |
| | | External | SAMD21G18A | 48MHz | 256KB | 32KB |
| | | External | AT91SAM3X8E | 84MHz | 512KB | 96KB |
| | | External | AT91SAM3X8E | 84MHz | 512KB | 96KB |
| | | External | SAMD21G18A | 48MHz | 256KB | 32KB |
| | | External | SAMD21G18A | 48MHz | 256KB | 32KB |
| | | External | SAMD21G18A | 48MHz | 256KB | 32KB |
| | | External | SAMD51P19A | 120MHz | 496KB | 192KB |
| | | External | SAMD21G18A | 48MHz | 256KB | 32KB |
| | | External | SAMD21G18A | 48MHz | 256KB | 32KB |
| | | External | SAMD21G18A | 48MHz | 256KB | 32KB |
| | | External | SAMD21E18A | 48MHz | 256KB | 32KB |
| | | External | SAMD21G18A | 48MHz | 256KB | 32KB |
| | | External | SAMD21G18A | 48MHz | 256KB | 32KB |
| | | External | SAMD21G18A | 48MHz | 256KB | 32KB |
| | | External | SAMD21G18A | 48MHz | 256KB | 32KB |
| | | External | SAMD51J20A | 120MHz | 496KB | 192KB |
| | | External | SAMD51J20A | 120MHz | 496KB | 192KB |
| | | External | SAMD21G18A | 48MHz | 256KB | 32KB |